: UPCOMING
_______________________________
Saturday, December 1st, 2018
It`s 10th birthday of
LINE IN
and we are ready to celebrate.
Over 3 days thematically everything revolves around Politics of liberation,
resistant criticism as well as constructive alternatives,
and the local cultural initiatives.
November 29th – December 2nd 2018.
On the third day we want to mark 10th anniversary of
LINE IN
with exhibition, discussion, performance,
concerts, live acts and DJ-sets.
Day 3 – LINE IN #10 – Politics of liberation
_______________________________
Day 3 – Part I, Saturday, 1.12.2018
Dessous, 12. Anton-Scharff-Gasse 4
(grey room)
———–
18h-20h – Discussion: POLITICS AFTER NIHILISM – Šefik Tatlić / Maja Kantar
21h-23h – Film Indie Film Forum Vienna: Dusk Chorus – documentary
23h-24h – Live: Wild Anima [Wild Fox Records]
_______________________________
Day 3 – Part II, Saturday, 1.12.2018
Dessous, 12. Anton-Scharffgasse 4
(street room)
————-
18h-20h – LINE IN Poster retrospective: Mikal Maldoror
20h-22h – Performance: EUROPEAN WORKING TITLE / zweite liga für kunst und kultur / Marko Marković
________________________________
After-Party
AU
, 16. Brunnengasse 76
——————
23h-24h – Live:
Oziloskop
24h-01h – 10 Min. Freestyle:
KLITCLIQUE
01h-02h – DJ-Set: EM
02h-03h – DJ-Set: Adem Lir [INCEL] 03h-04h – DJ-Set: Inou Ki Endo [Struma+Iodine, Unsafe+Sounds]
____________________________
Am Samstag, 1.Dezember 2018 ab 18.00,
gibt's in Dessous' Ausstellungsräumlichkeiten
Filmscreening, Podiumsdiskussion und Performance
im Rahmen des 3-tägigen 'Politics of Liberation' Festivals
in Kooperation mit LineIn und AU.
Facebook Event Tag 3 :
komplettes Festival-Programm :
---

---
Dessous ist ein Studio, eine Galerie und Unterwäsche. Mehr noch steht Dessous, gegründet 2014 von Anne-Sophie Wass und Gert Resinger für eine Basis, die Beziehungen zwischen nationalen sowie internationalen Kreativen stärkt, um den interdisziplinären Diskurs und kulturellen Austausch zu fördern. Durch alternierende Zwischennutzung urbaner Räumlichkeiten kommt zudem Dessous's Verständnis von Bewegung als Prinzip des Wachstums zum Ausdruck.
Dessous / Produktions- und Ausstellungsstätte
Dessous is a studio, a gallery and underwear. But furthermore Dessous is a fundamental base, founded 2014 by Anne-Sophie Wass and Gert Resinger, to strengthen the relations between national and international creatives, to enhance the interdisciplinary discourse and cultural exchange. By using the space in alternating temporary usages is the principle of increase.
Dessous / production and exhibition space
PREVIOUS EVENTS ….
---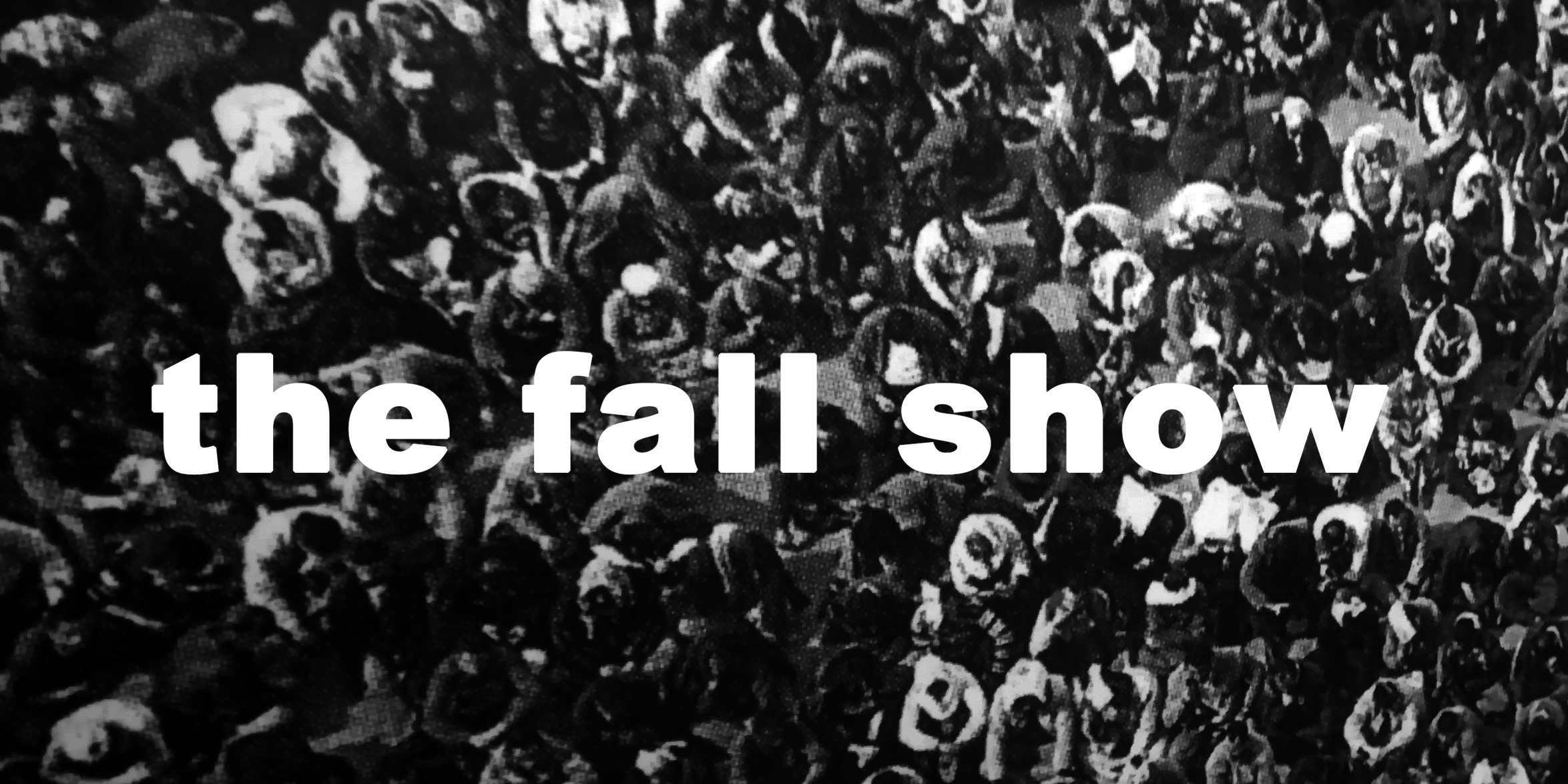 ' the fall show '
in den Ausstellungsräumlichkeiten des Dessous :
und im Rahmen des Independent Space Index 2018
SAMSTAG  13.OKTOBER 2018
geöffnet 19.00 – 24.00 Uhr (barrierefrei)
und jederzeit auch nach Voranmeldung
  contact@thedessous.com
 Anton-Scharff-Gasse 4, 1120 Wien
/ U4 Margaretengürtel
mit Arbeiten von :
Kalina Horon
Georgij Melnikov
Lieber Michael
Anny Wass
Gert Resinger
Neda Nikolić
Joseph Rudolf
Anna Schebrak
Osama Zatar
Thomas Schrenk
fb-Event : ' the fall show '
 
art, music and drinks
Der Independent Space Index ist sowohl ein ausführliches Verzeichnis lokaler "Artist-Run"- und unabhängiger Kunsträume (auch "Off-Spaces" oder "Alternative Spaces" genannt) in Wien, welches momentan 59 Einträge verzeichnet, als auch Repräsentationsplattform der Wiener Vereinigung unabhängiger Kunsträume unter demselben Namen, welche sich Ende 2017 als Reaktion auf rechte Politik und Kürzungen öffentlicher Kulturförderungen in Österreich formiert hat.
The Independent Space Index is both a comprehensive index of local artist-run and independent art spaces (also called "Off-Spaces" or Alternative Spaces) in Vienna, Austria, currently comprising of 59 entries, as well as a platform of representation for the local association of independent art spaces under the same name, formed in late 2017 as a response to recent right-wing politics and public cultural funding cuts in Austria.
---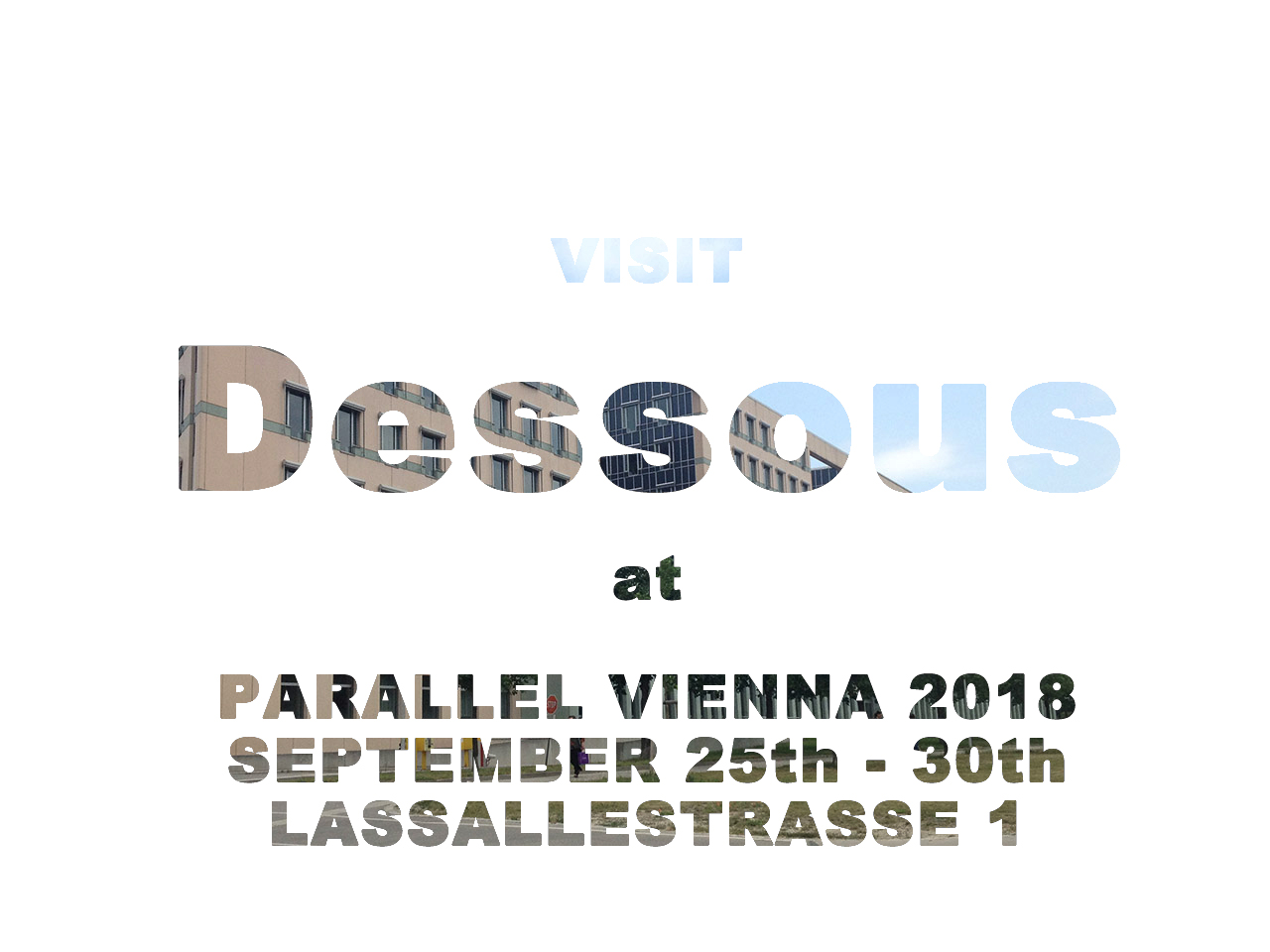 FIRST FLOOR : ROOM 1.08
September 25th – 30th, 2018
Lassallestrasse 1, 1020 Vienna
Opening on Tuesday 25.09.2018 : 5 pm – 10 pm
with Djane Marie Cherie : 8 pm – 10 pm
plus official Parallel Vienna 2018 Opening Party after 10 pm
General Opening hours :  Wednesday – Sunday : 12 pm – 7 pm
Dessous shows work in the field of tension between art and use.
Use of resources – animals, people, spaces and things.
with artists:
Ali Al-gburi
Anny Wass
Ernst Miesgang
Georgij Melnikov
Gert Resinger
Kalina Horon
Lieber Michael
Neda Nikolic
Olivier Hölzl
Osama Zatar
Thomas Schrenk
WeProductions
PARALLEL VIENNA presents young and emerging as well as established artistic practices and brings together art initiatives of every kind – art associations, galleries, project spaces, off spaces and artist spaces – , both Austrian and international, all under one roof. It thus combines local artistic creation with international trends and contributes to building networks and fosters exchanges between artists, curators, collectors and exhibition visitors.
check out the full programme and exhibitor list at:
fb – Event : Artfair Parallel Vienna 2018
fb – Event : Parallel – Opening Party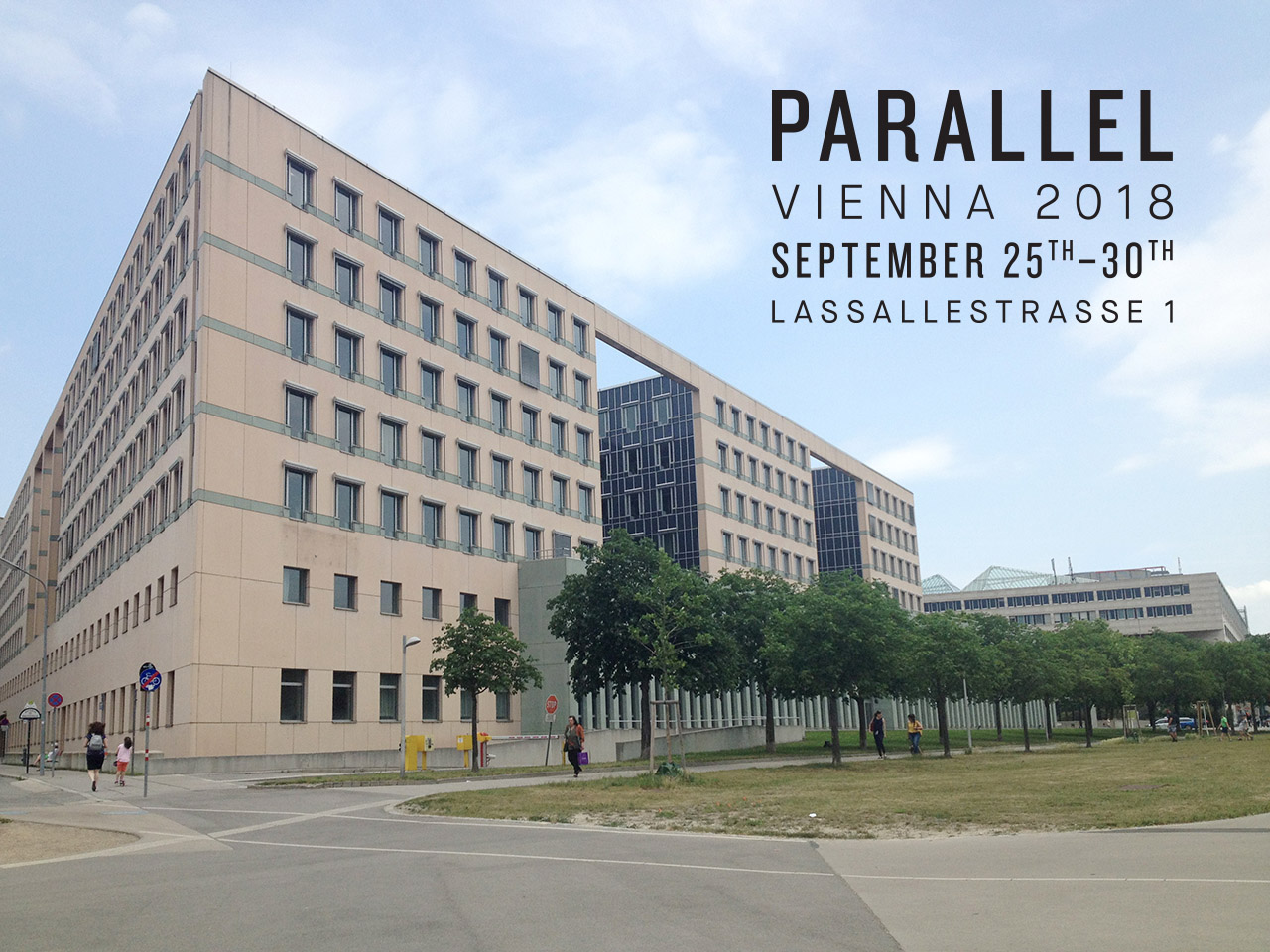 ---

---
WIENWOCHE : ' krieg kuratieren '
   15th to 23rd September 2018
at Dessous, Anton-Scharff-Gasse 4 , 1120 Vienna
/ U4 Margaretengürtel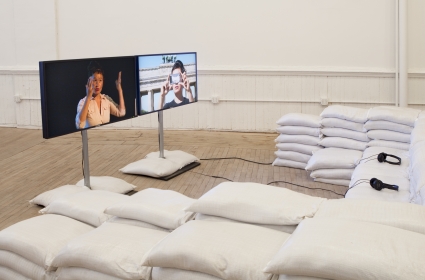 Bildsujet: Installation von Hito Steyerl, "Is the Museum a Battlefield?", 2013
(Two channel digital video, sound, Artists Space, New York) Foto: (C) Matthew Septimus
' Künstler_innen werden im Krieg verfolgt. Aber Kunst kann aus dem Geschäft mit dem Krieg auch Profit schlagen.
Die Ausstellung ' krieg kuratieren ' wirft einen prüfenden Blick auf Kunstproduktion und Kunstmarkt, ihre Komplizenschaft mit Waffenhandel und Krieg und ihre Widerstandskraft dagegen.
Die Kuratorin Ezgi Erol stellt mit einer Reihe von internationalen künstlerischen Positionen das Verhältnis von Kunst und Krieg im Meidlinger DESSOUS zur Disposition. '
Mitwirkende Künstler_innen:
Baran Çağınlı
Alice Creischer
Andreas Siekmann
Ana Hoffner
Fatoş İrwen
İhsan Oturmak
belit sağ
Songül Sönmez
Hito Steyerl
Ausstellungsöffnungszeiten und Rahmenprogramm:
Sa, 15.09.2018, 19:00 – 22:00 : Ausstellungseröffnung: krieg kuratieren
So, 16. 9., 14:00 – 16:00 :  Artist Talk mit Ani Gülgün Mayr (ORF III)
So, 16. 9., 13:00 – 22:00 : Ausstellung: krieg kuratieren
Mo, 17. 9., 16:00 – 20:00 : Ausstellung: krieg kuratieren
Di, 18. 9., 16:00 – 22:00 : Ausstellung: krieg kuratieren
Di, 18. 9., 17:30 – 18:30 : Führung durch die Ausstellung mit Kuratorin Ezgi Erol
Di, 18. 9., 19:00 – 21:00 : Vortrag von Neşe Özgen: The Reconstructions of "Motherland" In Times of Conflict
Mi, 19. 9., 16:00 – 20:00 : Ausstellung: krieg kuratieren
Do, 20. 9., 16:00 – 20:00 : Ausstellung: krieg kuratieren
Fr, 21. 9., 16:00 – 20:00 : Ausstellung: krieg kuratieren
Sa, 22. 9., 16:00 – 22:00 : Ausstellung: krieg kuratieren
Sa, 22. 9., 17:30 – 18:30 : Führung durch die Ausstellung mit Kuratorin Ezgi Erol
Sa, 22. 9., 19:00 – 21:30 : Film Screening "Sulhname – Settlement"
So, 23. 9., 14:00 – 22:00 : Ausstellung: krieg kuratieren
So, 23. 9., 14:00 – 16:00 : Angekommen, was nun? – Reflexionen zweier LGBTIQ Aktivist_innen über Krieg/spolitiken
So, 23. 9., 16:00 – 22:00 : Ausstellung: krieg kuratieren – Finissage
Veranstaltungssprachen: Deutsch, Englisch, Türkisch
http://www.wienwoche.org/de/531/krieg_kuratieren
Facebook Event 'krieg kuratieren'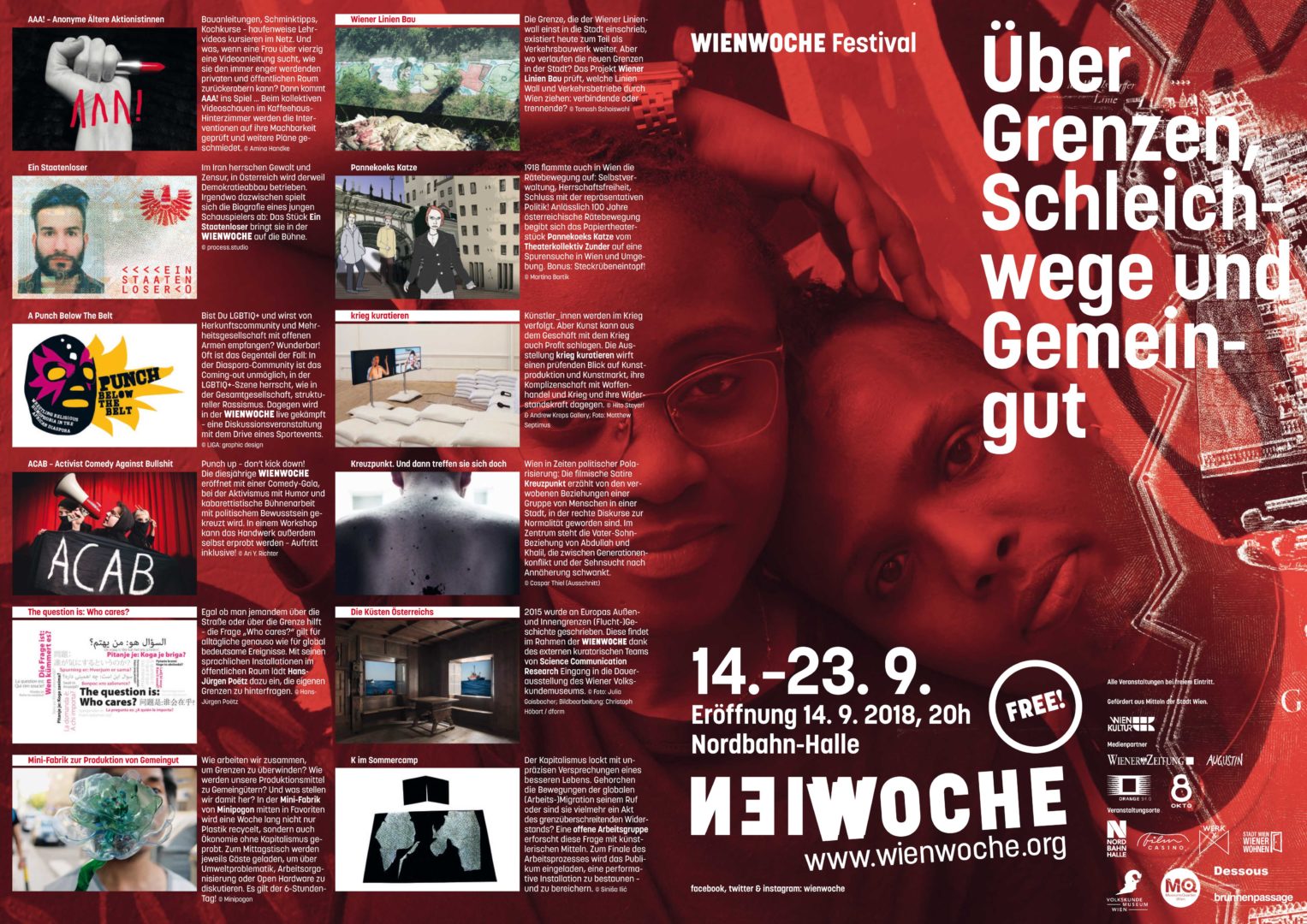 ---
NETWORK DREISECHSFUENF
21/09/18: 19:00-02:00
22/09/18: 15:00-02:00
Die Schöne wird für 2 Tage zu einem Ort beschleunigter und geballter Ausstellungspraxis!
Network DREISECHSFUENF ist ein Mini-Festival, zu dem Kollektive, Kurator*innen und Künstler*innen aus dem Netzwerk, das sich in den letzten zwei Jahren gebildet hat eingeladen wurden, etwas beizutragen.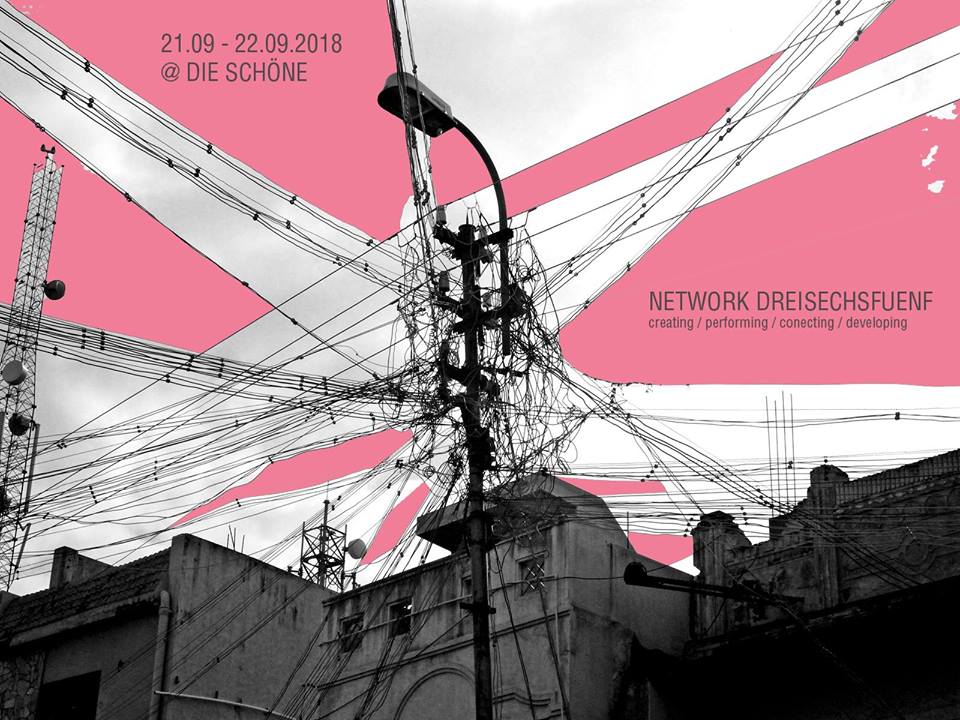 Öffnungszeiten:
21/09/18: 19:00-02:00
22/09/18: 15:00-02:00
Eintritt: freie Spende
(empfohlener Betrag: 5 euro, die Einnahmen gehen zur Gänze an die Künstler*innen)
PROGRAMM
21.09.18: Exhibition Opening, Performances + live Musik / Party
19:00 "Black work on white background" Performance von Željka Aleksić
******
20:00 Selbstausbeutelungsperfomance der Grillhendl Rotation Crew
******
20:45 "Stand in for OBRA" – Performance von Aiko Kurosaki (OBRA / EOP)
******
21:30 live Musik von STEFFKO
******
22:00 – 00:00 Dj set by Frau Hoffman
******
00:00 – 02:00 Dj set t.b.a.
22.09.18: Talks, Performances + live Musik / Party
Doors open at 15:00
******
19:00 "more than one" – Performance von grundsteinsieben
******
20:00 "Browser Amnesia" – AV Performance von Stefano D'Alessio
******
22:00 "Bühnentier" – Performance von Johannes Rass
******
22:00-02:00 hosted by unsafe + sounds festival
Superskin live
Dj set by Marie Cherie
Beteiligte Künstler*innen, Kurator*innen und Kollektive:
Offerus Ablinger
Žarko Aleksić & Jelena Micić
Željka Aleksić
Florian Appelt
maRie cheRie
ARCC.art
Dessous
Stefano D'Alessio
EOP
Lena Freimüller / Flux 23
Grillhendl Rotation Crew
grundsteinsieben
Hagendorfer
Frau Hoffman
Song Jing
Aiko Kurosaki
Lluís Lipp
David Mase
Georgij Melnikov
OBRA
Patrick O'Donoghue
Konrad Pannagger
Kollektiv perlimpinpin
Lukas Ponyboy
Precarium
Johannes Rass
E.A. Sattler
Elisabeth Schafzahl
Tatjana Schmidt
Martin Schnabel
Jeanot Schwarz
Anastasia Soutormina
STEFFKO
Superskin
unsafe + sounds festival
Philipp Wegan
u.v.m.
http://www.dieschoene.at/dreisechsfuenf-7.-23.9.2018
http://www.dreisechsfuenf.com/
www.facebook.com/DREISECHSFUENF
---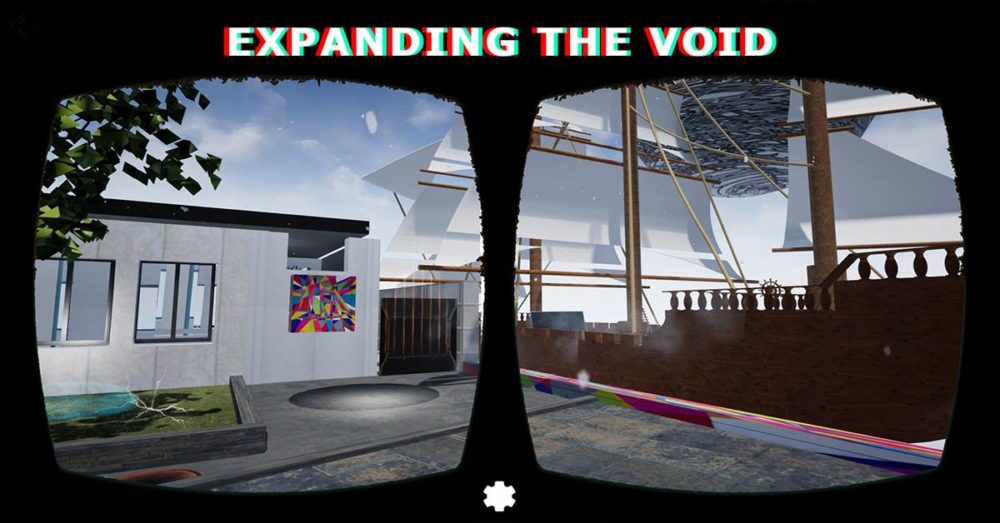 ' EXPANDING THE VOID '  –  A VIRTUAL REALITY EXHIBITION

OPENING  :  JUNE 12th, 2018, 18.00 – 22.00 Uhr

Anton-Scharff-Gasse 4, 1120 Wien
U4 Margaretengürtel
"EXPANDING THE VOID – a virtual reality exhibition" – ist ein Projekt, bei dem eine Gruppe von  KünstlerInnen – mit Hilfe von 3D- und VR-Technologie – mit der Architektur des Galerieraums und dadurch mit der Idee einer Verbindung zwischen Realität und virtueller Realität spielt.
teilnehmende KünstlerInnen:
Alaa Alkurdi
Robert Gruber
Kalina Horon
Lieber Michael
Neda Nikolic
Gert Resinger
Anny Wass
Benjamin Weber
Osama Zatar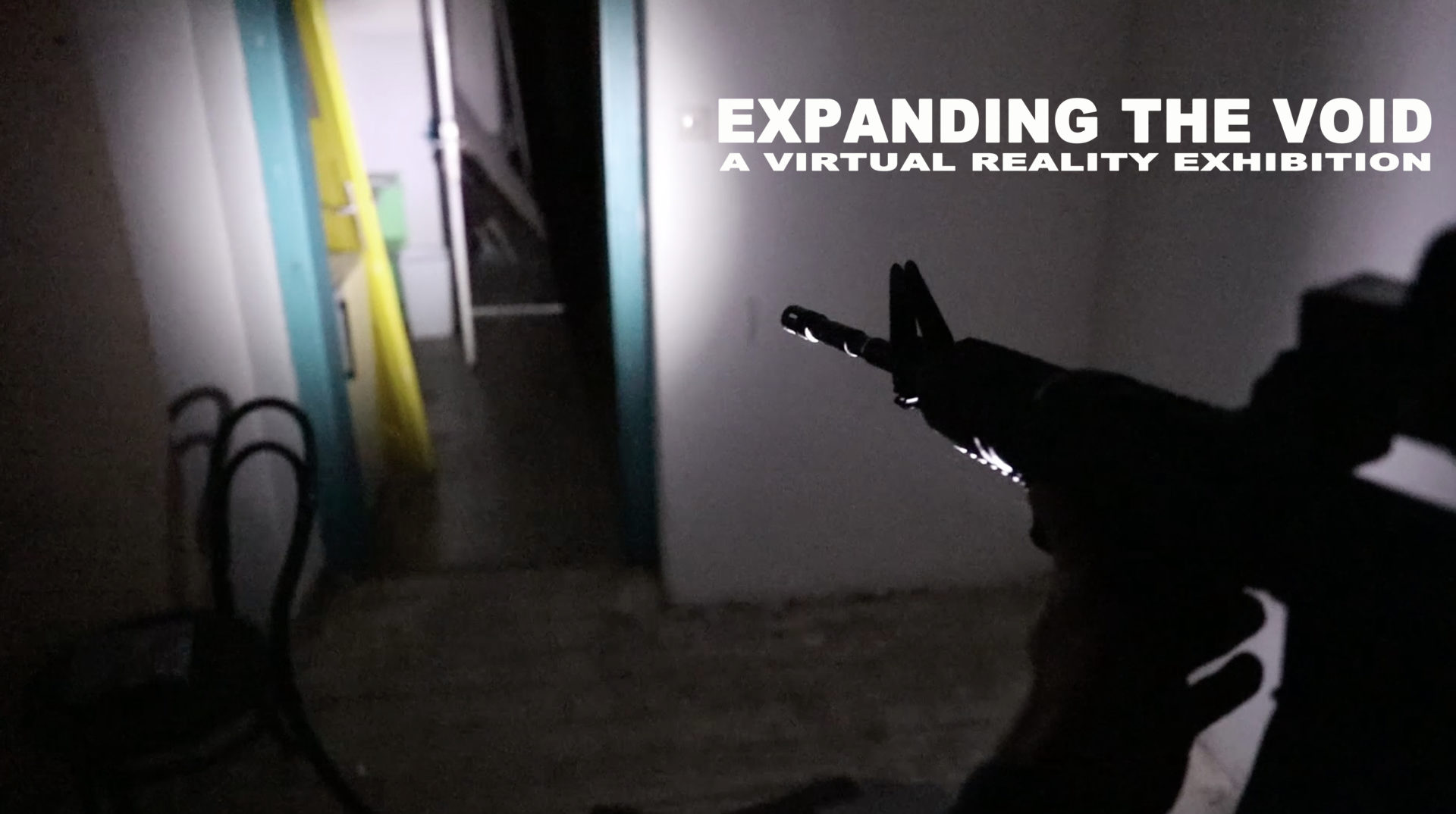 In Kooperation mit dem ' Wir sind Wien ' Festival 2018. Kunst und Design.
Das Projekt "Kunsträume 23" feiert von 1.- 23.Juni 2018 sein 10-jähriges Jubiläum!
Allabendlich findet in ausgewählten Begegnungsräumen Kunst unter der Projektleitung von Ingeborg Habereder statt.
Das komplette Programm,
sowie der digitale Veranstaltungskatalog  sind zu finden unter:
https://www.facebook.com/events/892671984238494/
---
THE ARMORY SHOW
Opening : 19.05.2018 – 19.00
Künstler*innen:
Rocko Iremashvili
Anny Wass
Begi Guggenheim
Gert Resinger
Mirjana Rukavina
Lieber Michael
Osama Zatar
Natalie Baxter
Kevin Harrison
Sophia Süssmilch
TOMAK
+Live @ Weltbar
Soda & Gomorra Live
Rick Gabriel Live (chrome rock)
djane: maRie cheRie
kuratiert von DESSOUS
https://thedessous.com/
Event: https://www.facebook.com/events/1466898280100331
---

DREISECHSFUENF #3
15 days I 15 curations I 15 shows
taking place at DESSOUS
Anton-Scharff-Gasse 4, Vienna
05/05/18 – 19/05/18
15 Tage | 15 KuratorInnen | 15 Ausstellungen
Bei DREISECHSFUENF geht es um eine intensive Nutzung des Raumes. Täglich werden Ausstellungen aufgebaut, eröffnet und abgebaut. Der gesamte Prozess wird zu einer Dauer-Performance und das Festival ein sich ständig transformierendes soziokulturelles Konstrukt.
In der dritten Ausgabe wird das Festival philanthropisch ausgerichtet sein.
Es ist DREISECHSFUENF's Ziel, breitenwirksames Mikro-Mäzenatentum zu etablieren und einen Weg aus der Prekarisierung der Kulturarbeit aufzuzeigen.
KURATOR*INNEN
Sa 05.05 DREISECHSFUENF
www.dreisechsfuenf.com, Wien
So 06.05 Precarium
www.precarium.at, Wien
Mo 07.05 Vera Klimentyeva
www.cargocollective.com/veraklimentyeva
Di 08.05 Flux 23 / Lena Freimüller
http://www.flux23.net/, Wien/Klagenfurt
Mi 09.05 One Mess Gallery
www.onemessgallery.com, Wien
Do 10.05 Peter Kozek
www.kozek-hoerlonski.com
Fr 11.05 STURM UND DRANG GALERIE
www.sturm-drang.at, Linz
Sa 12.05 Mia Papaefthimiou
curarchitect – art director
So 13.05 Kunstraum Retz
www.kunstraumretz.com, Retz
Mo 14.05 Zarko Aleksic & Jelena Micic
www.zarkoaleksic.com, www.jelenamicic.com
Di 15.05 Salvatore Viviano
www.salvatoreviviano.com
Mi 16.05 Joseph Rudolf | Jan Arnold Gallery
http://www.janarnoldgallery.com/, Wien
Do 17.05 Magdalena Wenta
Kuratorin, Kunsthistorikerin
Fr 18.05 Jasmin Hagendorfer & Offerus Christoph Ablinger
https://ablingerhagendorfer.jimdo.com/
Sa 19.05 Dessous
https://thedessous.com/, Wien
PRESSEMATERIAL:
DREISECHSFUENF #1 und #2 Presse
DREISECHSFUENF #3 Kurator*inn_en Presse
---
OPEN STUDIO DAY – am Samstag, 21.04.2018, 15:00 – 22.00
DESSOUS öffnet die Tore
und schmeisst den Griller an.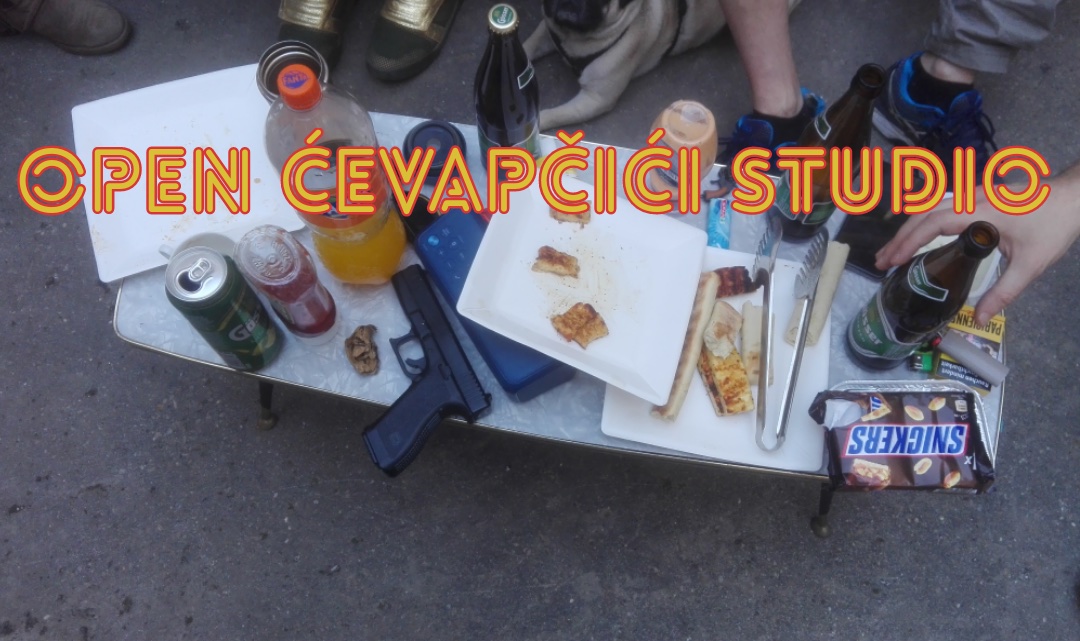 Wir zeigen Arbeiten von
Lieber Michael
Gert Resinger
Alaa Alkurdi
Neda Nikolic
Anny Wass
Osama Zatar
Ali Al-gburi
und servieren feinste Kost
---
Anton-Scharff-Gasse 4, 1120 Wien
28.02.-04.03.2018 daily 16.00-20.00
Curated by Jasmin Hagendorfer, Anne-Sophie Wass & Gert Resinger
 
Offerus Ablinger /
Annemarie Arzberger /
Florian Aschka /
Bassano Bonelli Bassano /
Alexandru Cosarca /
Stefan-Manuel Eggenweber /
Olivier Hölzl /
Kathi Krawall /
Larissa Kopp /
Stefanie Koscher /
Lieber Michael /
Alice Moe /
Lukas Ponyboy /
Gert Resinger /
Michal Rutz /
Sebastiano Sing /
Dimitrios Vellis /
Anne-Sophie Wass
PORN FILM FESTIVAL VIENNA goes DESSOUS
(english below)
Wie vollführen sich Projektionen von sexuellen Fantasien, wie kann der Körper als Trägermedium von Begehrlichkeit fungieren, wo werden Erwartungen an einem Körper auferlegt und exponiert? Landscapes of Desire zeigen Künstler*innen Werke fundamentaler Körperlichkeit, es werden Zentren der Lust geschaffen und Aspekte verschiedener Identitäten hinterfragt und neu gezeichnet. Der Körper steht im Zentrum der Ausstellung, fungiert als politisch vertonte, gezeichnete, gemalte und performative Landschaft. In der Ausstellung werden durch unterschiedliche Medien normative Muster hinterfragt und Ansätze zur sexuellen Selbstbestimmung gezeigt. Körper und Extase. Entblößung. Post-Porntopische Begierde.
How are projections of sexual fantasies executed, how can the body be medium of concupiscence and where are expectations of a body to be set or exposed? Landscapes of Desire shows artworks of fundamental corporeality, centers of lust are to be established and aspects of different identities are questioned und newly painted. The body is the main focus of the exhibition and functions as a politically tuned, painted, drawn and performed landscape. In the exhibition different medias ask about the normative structures we live in and sets up new room for sexual self determination. Body and ecstasis. Exposure. Post-porntopian desire.
DESSOUS is a Studio
DESSOUS is a Gallery
DESSOUS is Underwear
http://pornfilmfestivalvienna.at/
https://thedessous.com/
---
°°°°° N e w Y e a r N e w L u c k °°°°°
°°° we want to celebrate with you °°°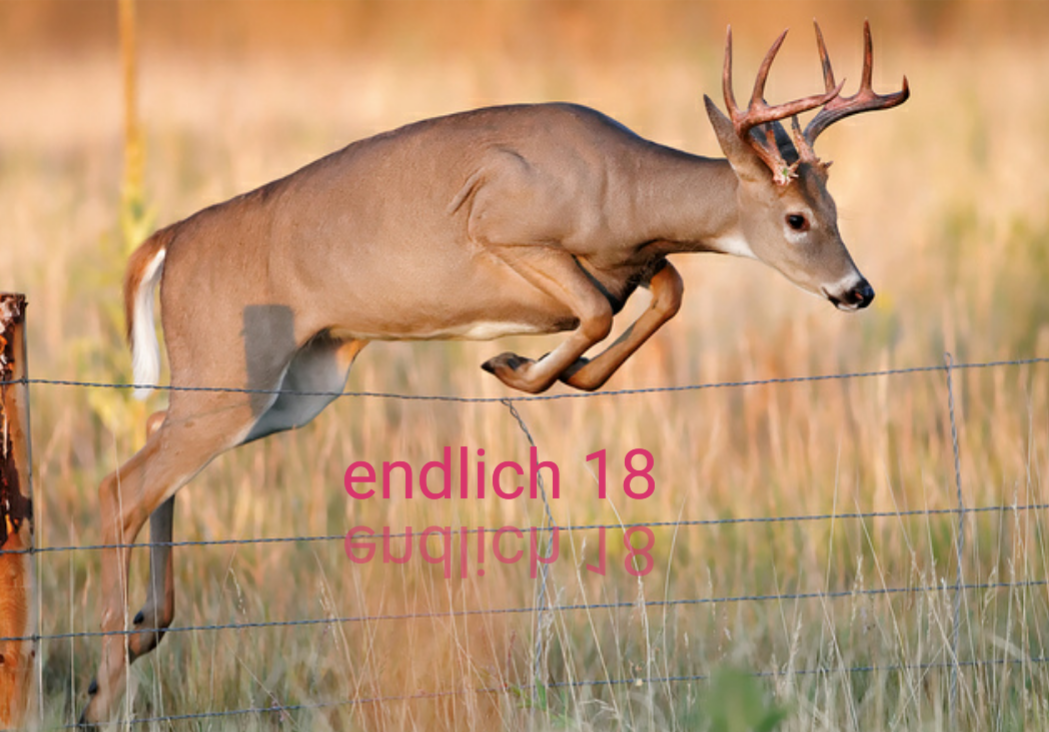 °°°°°°°°°°°°Weltbar Lineup°°°°°°°°°°°
« Dj le zèbre » (freshfrenchsound)
« Eloise Duchenne » LIVE
« Kathi und Gold » LIVE
« Roman Schöny » (Donau)
« SЯC » (bw.nu)
SONNTAG 31.12.2017
Anton Scharff Gasse 4, 1120 Wien
---
Herzliche Einladung
zur Ausstellung KLUB WELT und Finissage
: Come and join us for our recent exhibition KLUB WELT and Finissage

: 24.November 2017 – 19:00 Uhr

: DESSOUS
Anton-Scharff-Gasse 4
1120 Wien
:  The exhibition is located in our studio space –
therefore you can also visit us during the week in our working hours
feel free to contact us for an appointment.
: KLUB WELT / AUSSTELLUNG


 Anne-Sophie Wass


 Lieber Michael


 Gert Resinger


 WE PRODUCTIONS


 Georgij Melnikov


 Osama Zatar


Adam Cohen


 Alaa Alkurdi


 Hagendorfer


 Offerus Ablinger


Thomas Schrenk
: on the decks @ WELTBAR
Lieber Michael

Javier Cassani
mtba…
https://www.facebook.com/thedessous/
Wir freuen uns auf Euer Kommen!